Feather centerpieces for your Sweet 16 party tables will make your event stand out.  We show up early in the day to setup all the feather centerpieces in your desired colors. You choose the color of the feathers as well as the spandex tower.  We also carry different types of vases like a Crystal Vase, Glass Vase and we can use water beads for a extra sparkle effect.   All of our feather centerpiece rentals have lights inside that make the centerpieces glow. If you turn off all the lights in the room, the lights in the feather centerpieces will make sure the guest tables have enough light to see the faces of their fellow partyers.
Best Feather Centerpieces
When it comes to feather centerpiece rentals, there are many available online and each is different. It's important to understand that not all feather centerpieces are the same. Things that vary from centerpiece to centerpiece are the feather type, feather length, centerpiece height, tower material and if they have lights inside. Even the type of light inside varies from company to company.
Centerpieces to stand out from the rest
Super Sweet Sixteens uses the most expensive  24″ – 36″ length, ostrich plume feathers – the highest quality available. Our centerpieces have three lights inside that are LED and will stay on for your whole party. The centerpieces stand over 5 feet tall !!!  You may choose the color of the spandex tower as well as the feather color, but we usually recommend white spandex since it lights up the best. Most party hosts choose a feather color that matches the Sweet 16 theme.  You can also switch to a high powered LED program light inside the vase which can be color mixed to your taste.
Centerpiece Rentals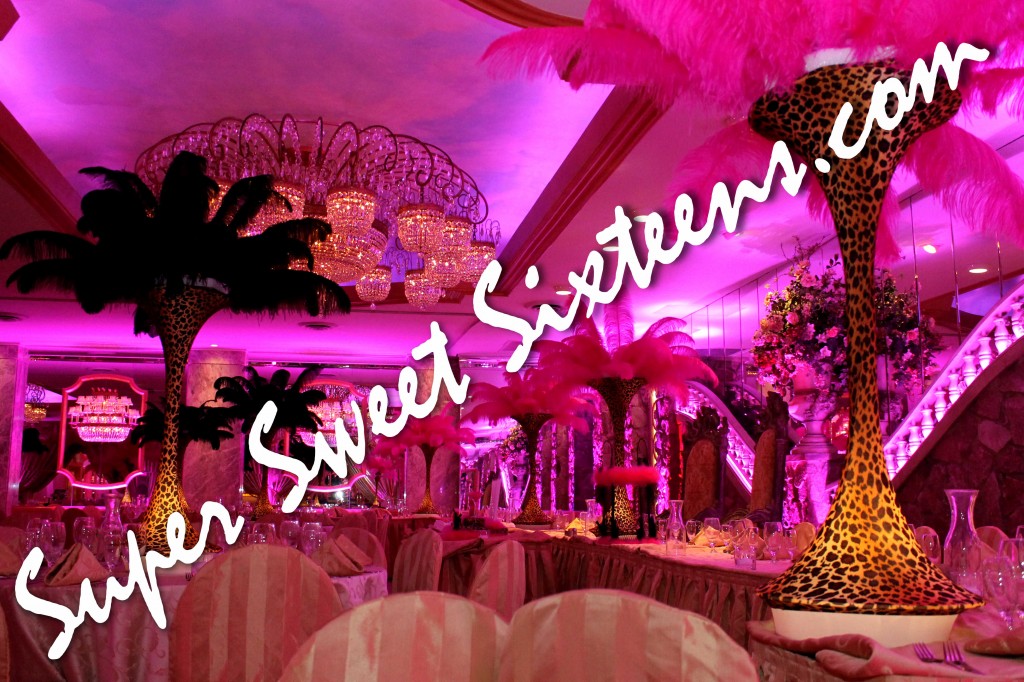 We also offer animal print centerpieces with fun patterns like zebra and cheetah. These are super popular for safari-themed parties. We setup and take down our feather centerpiece rentals for parties of all sizes. You may have up to 50 centerpieces for each party. Each centerpiece is hand designed by the setup person designated to your party.
Please give us a call to visit our showroom and check out our feather centerpieces in person. Our phone number is 516 547 0965. We are located in Lynbrook and East Islip on Long Island. To make sure you have the best Long Island Sweet 16, check out our Sweet 16 party planning checklist!
If you would like to see comments and completed parties you can even talk with some of our great referrals on our Facebook page.
The areas we cover for designing these 1 of a kind type table decoration are Long Island Centerpiece rental, centerpiece rental nyc, centerpiece rental nj and call us if your area is not listed above.