Sweet 16 themes and party ideas will make your party stand out. Super Sweet Sixteens offers awesome Sweet 16 theme ideas. We provide invitations, sign in boards and other party favors that we can incorporate your Sweet 16 theme into. For example, if you want a nightclub theme Sweet 16 party we can make nightclub themed Sweet 16 invitations. We can also make a nightclub Sweet Sixteen themed sign in board and bring our nightclub lighting and lounge furniture rentals. We offer tons of Sweet 16 ideas to our clients because we provide our Sweet 16 DJ and party planning services every week. We have many different items to help you get your themed Sweet 16 party to stand out. We offer themed Sweet 16 lighting, themed invitations, themed sign in boards as well as red carpet entrances, snow machines, feather centerpieces and other items we can customize to match your Sweet 16 party theme.
Winter Wonderland Theme Sweet 16
In the winter season, many of our clients want to have a Winter Wonderland Sweet 16 theme party. To accommodate this Sweet 16 theme, we create and print Winter Wonderland Sweet 16 invitations, a winter-themed sign board, and ice blue lighting to make the walls have a winter theme feeling. We also have a snow machine to make it snow in the room and really get your Winter Wonderland theme across. We also have snowflake-shaped lighting, enormous inflatable snow man statues, a blue carpet entrance, and other Winter Wonderland themed accessories.
Hollywood Red Carpet Theme Sweet 16
Another popular Sweet 16 theme is Hollywood theme or Red Carpet theme. For this Sweet 16 theme, we offer actual red carpet entrances with chrome posts and red velvet ropes. We also have huge spotlights to put in front of the building like see on at red-carpet celebrity events on television. Custom Hollywood0themed lighting with your name in lights and an Oscar award will help get across this Sweet Sixteen theme. We offer miniature Oscar award statues that you can give to your guests as souvenirs to take home. If you want to make your Red Carpet theme Sweet 16 really awesome we can even help you coordinate a celebrity appearance at your party.  Hollwood themed Sweet 16 invitations would also help get your party ideas across from the very start of your party planning.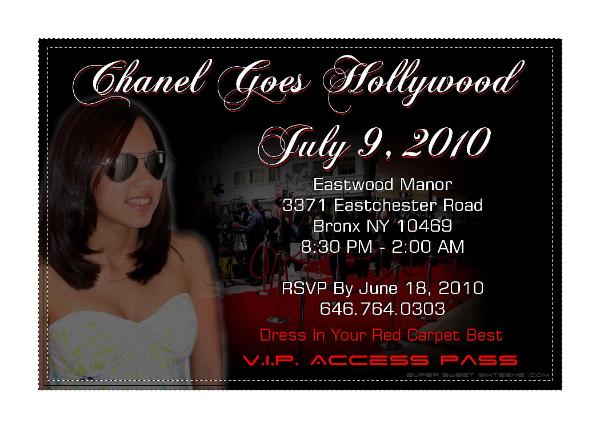 Our Sweet 16 DJ is the best on Long Island NY. We provide the hottest Sweet 16 parties with our Sweet 16 DJ, nightclub lighting, feather centerpieces, lounge furniture and other cool Sweet 16 DJ entertainment services.
Sweet 16 invitations with themes are provided by Super Sweet Sixteens. We can make themed Sweet 16 invitations for your Sweet 16. Here is a photo of a Hollywood Red Carpet theme Sweet 16 party we did for Chanel.
Creating Your Sweet 16 Theme
Super Sweet Sixteens specialized in helping our clients come up with great ideas and cool Sweet 16 themes for their parties. Our parties have a reputation for being over the top and we take pride in that. All of our party services are provided by our own company and we handle all aspects of your Sweet 16. We will create your Sweet 16 theme with you from start to finish. Give us a call at 516-547-0965 to discuss your upcoming Sweet 16.
View more cool Sweet 16 themes by checking out this page